Topanga Primitive Survival
21348 Hillside Dr, Topanga, CA 90290
Nature Reconnection Workshop
This workshop will be taught by primitive skills experts Chad Keel, and Kody Sherwood who are from naturereconnectionclass.com. These workshops are essential for anyone who spends time in the wilderness, or anyone at risk of natural disasters. Natural disasters come in all shapes and sizes. California is prone to disasters like earthquakes, flooding, landslides and forest fires. They all can have a major disruptive affect on our lives. Being prepared for these events can help you and your family ride out the situation and thrive in unfortunate circumstances. Our ancient ancestors knew how to survive off the land with just their bare hands, this workshop will reconnect you with those skills.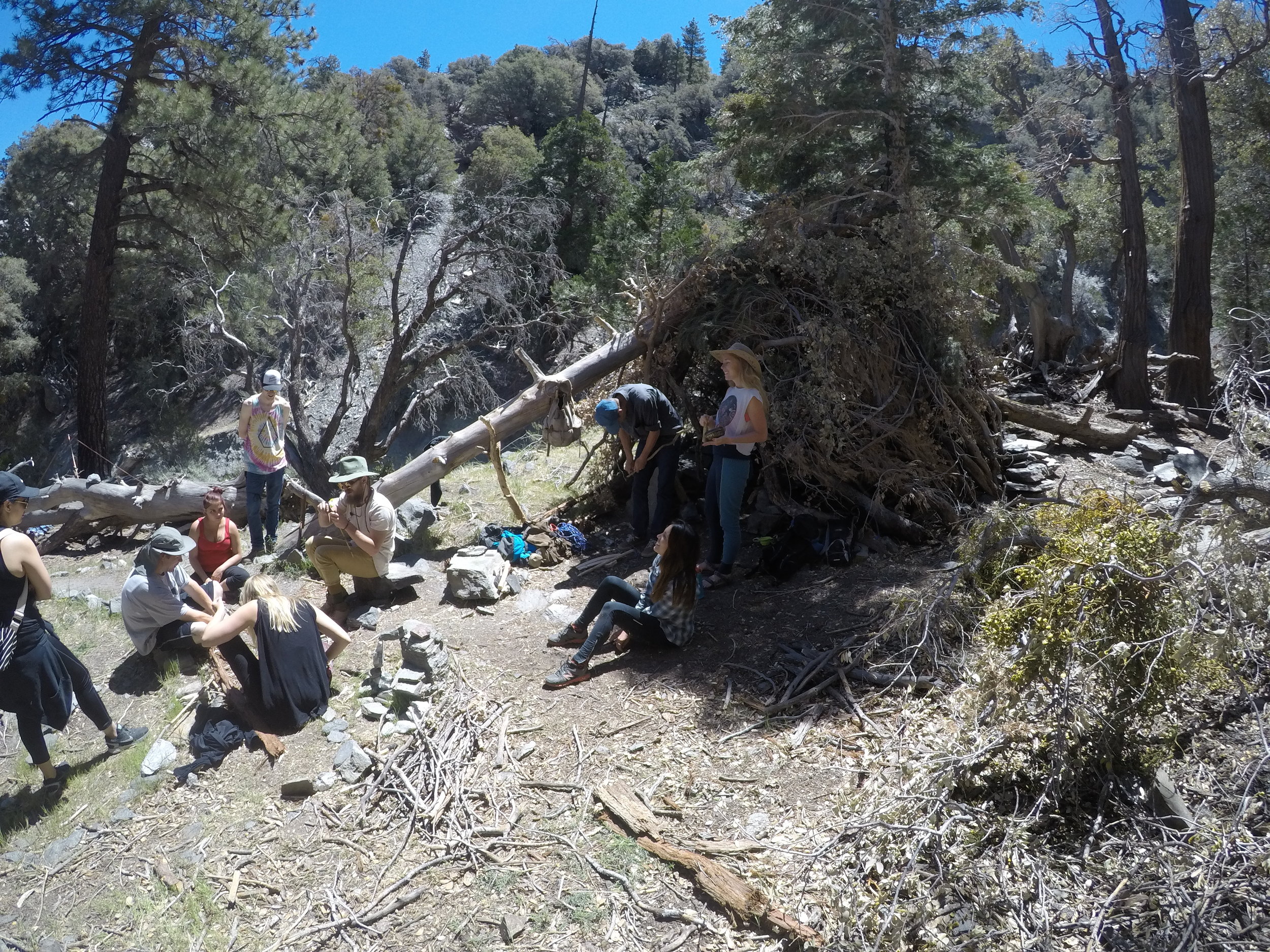 1. Primitive Tool making - (Instructors Chad Keel, Kody Sherwood) - Jan.6th 2018

This class will discuss primitive tool making such as stone axes, primitive footwear, burn bowls, primitive water filtration units, and bow and arrow making. Surviving weeks or even months without the bare essentials can make surviving additionally hard. Learning how to make something as simple as shoes in the wilderness can make even the simplest tasks more tolerable in a survival situation. Creating tools from the wilderness will allow you to "thrive in the wilderness rather than attempting to survive in the wilderness". Many primitive tools will be built from the local wilderness area we will be teaching from. This class will open your mind to the unlimited opportunities nature lends us in times of need.

2. Shelter building - (Instructors Chad Keel, Kody Sherwood) - Jan.20th 2018

In wilderness survival or in the case of a natural disaster it will be crucial that you build a shelter to survival hash climates or conditions. Understanding how to create effective survival shelters is one of the most important skills you will learn. From keeping you protected from the elements to providing a place to rest, survival shelters serve a key role in survival situations. We will discuss many types of shelters depending on factors that include 'what materials are available, environmental conditions, choice of heat source, and whether it will be a personal or group shelter'. We will team build a shelter with the class to demonstrate effective shelter building techniques and philosophy in action.


3. Primitive trapping - (Instructors Chad Keel, Kody Sherwood) - Feb.3rd 2018

Post disaster or in a survival situation, traps can capture animals that provide you precious calories from meat and fat. Traps can work for you while you are off accomplishing other tasks, if they are set correctly. You will be taught how to build various traps to target small to large game animals. All of these traps will be built primitively using resources that lend themselves to us while in the field. Understanding how to build primitive traps will allow you to provide for yourself and others if you are cut off from civilized food sources.

4. Water purification methods - (Instructors Chad Keel, Kody Sherwood) - Feb.17th 2018

After a natural disaster people may be caught for weeks or months without pure drinkable water. Even in a wilderness survival situation it is important to purify water to protect yourself from bacteria and viruses that may be in the water. This class will discuss and demonstrate everything you need to know about water purification, and filtering. You will be taught how to purify water without a container in the field, and how to filter it so that it is clear and safe to drink. Various methods will be discussed and demonstrated starting with the most primitive, and ending with modern techniques you can use in a post disaster situation. After this class you will leave with the essential knowledge you need to maintain pure hydration for yourself and others in any situation.

5. Primitive friction fire - (Instructors Chad Keel, Kody Sherwood) - Mar. 24th 2018
This class will teach you true self-reliance; the ability to make fire anywhere, and anytime with no tools. You will be taught two methods, the Hand Drill and the Bow Drill. The Hand Drill method is the most primitive and thus requires tremendous focus and energy. You spin a wooden stick against a wood board with your bare hands and make a small ember which is then blown into a flame. This method has had one of the widest distributions on earth, and is now nearly a forgotten skill due to inventions like the match, or lighter. The hand drill method is a thing of beauty and art. Second you will learn about the Bow Drill method. Historically Bow drills were used between the 4th and 5th millennium BC. Similar drills were found in other parts of the Indus Valley Civilization and Iran one millennium later. This method is a lot easier to master, and can also be used to bore holes into wood or stone. After learning and practicing both of these methods you will have the ability to create fire in any circumstance that may present itself.
Kody Sherwood - Head Instructor
Kody Sherwood and Chad Keel are step brothers, and became family at the age of 5 years old. Chad and Kody grew up on the south slope of Phelan, California. Learning to survive in the arid foothills of the High Desert became their hobby. Researching rocks, plants, animals, and thus how to use them to their advantage in the field. Kody moved to Hawaii at 18 years old. There he furthered his education in nature and survival. Kody has trained with a majority of the top survival experts on planet earth and is an accomplished bushcrafter.
When the Nature Reconnection Classes started Kody was living in Colorado and decided to relocate to Southern California to teach. In 2016 he was featured on the Oxygen TV Network teaching survival skills. He has been a head Instructor for naturereconnectionclass.com since 2015. He continues to train with various survival instructors across the globe, with the intention of bringing these skills back to students.
Chad Keel - Head Instructor
Chad Keel is a naturalist and primitive survival instructor with strong foundational knowledge in biology, ecology, chemistry, math and geology. His dad was a renowned woodsman and taught him and his brothers from birth how to survive in the wilderness. In 2006 at 18 years of age he started traveling to train with various primitive survival instructors to further develop his skills and knowledge. At the age of 25, he started organizing "Nature Reconnection Classes" in South Orange County, California. The classes focussed on teaching survival skills as an alternative to depression and anxiety medications.
The classes turned into a major success prompting him to teach survival skills on major TV Networks. In 2016 alone he was featured teaching survival on the Oxygen Network, and filmed a survival show in August 2016 for Discovery Channels "Naked and Afraid". He recently spent 5 days in the Costa Rican rain forest and was made an Honorary Instructor for the Amazonas Survival School in Costa Rica. He continues to train with various survival instructors across the globe, with the intention of bringing these skills back to students.